Systems Engineering Graduate Certificate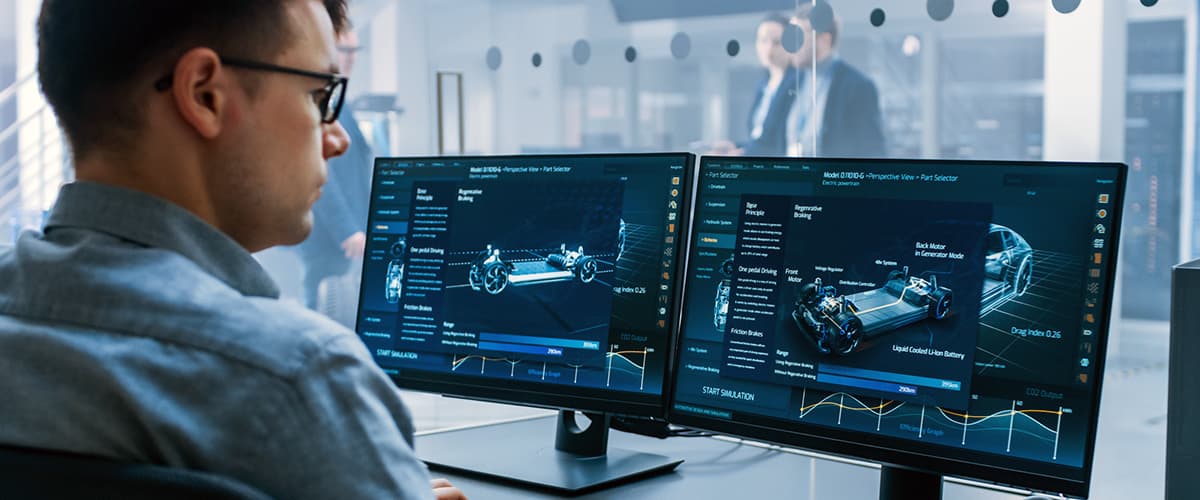 Meeting industry needs through an interdisciplinary, collaborative approach
Detroit Mercy's Systems Engineering (SE) certificate program prepares you to utilize the latest technologies in automotive, mobility and manufacturing industries. The program is the result of collaboration with our industry partners to offer you an opportunity to learn the unique skills that industry needs to develop the next generation of engineers, technologists and industry leaders.
Our courses were designed by "competency teams," whose explicit purpose is to create curriculum that is directly responsive to the current needs of industry and integrates best practices technology, strategies, methods and tools emerging from universities, corporations and national laboratories.
How it works
This is a 15 credit (five course) certificate program. 

The program courses and electives can usually be completed in one calendar year.  

This certificate program is 100% online through the Engineering Graduate Programs office in the College of Engineering & Science.
Certificate = INCOSE knowledge exam requirement
Detroit Mercy is proud to announce the International Council on System Engineering (INCOSE) now recognizes the System's Engineering Certificate as an equivalent to the INCOSE knowledge exam. Those students seeking INCOSE certification will be able to bypass the knowledge exam requirement.
What do alumni say?
I am now a Director for Digital Architecture and Requirements Engineering and have emerged as a leader in the worldwide systems engineering community, and I can trace the path that led here directly back to the MPD curriculum.
—Michael Vinarcik '04
Master of Product Development
Director, Digital Architecture and Requirements Engineering
Engineering Innovation Factory at SAIC
 

Michael Vinarcik '04 - Tracing his Path to Success

"The MPD program had a significant impact on my career. The product development, systems architecture and systems engineering principles I learned in the MPD program laid a strong foundation upon which I have built my career. I am now a Director of Digital Architecture and Requirements Engineering and have emerged as a leader in the worldwide systems engineering community, and I can trace the path that led here directly back to the MPD curriculum.

Our graduates are in demand because the curriculum emphasizes an appropriate blend of theory and practice. From the January Experience that initiates each cohort through the final thesis, students are taught principles and are given opportunities to apply them. It is our recognition that product development and systems engineering have aspects of an art, a science, and a craft, and we develop students by tailoring our teaching methods to inspire students' creativity, instructing them in the fundamentals and giving them opportunities to practice what they have learned. Our graduates are able to add immediate value to organizations, and we are seeing an increased number of companies sending their employees to us as a professional development option. Qualifying students are also granted an exam waiver by the International Council on Systems Engineering; this enables them to obtain Associate or Certified Systems Engineering Professional certifications without the normal examination. This is appealing to students and organizations; obtaining these credentials through success in our program provides an additional qualification valued worldwide.

I chose to pursue my MS Product Development degree at University of Detroit Mercy because of the reputation of both the school and the program. I had to seek out a nomination and demonstrate that I was willing and able to meet the requirements, and the two years I spent in it challenged me in ways I never expected. The quality of the faculty, guest speakers and curriculum became even more evident when I was enrolled. The convenient location and class times enabled me to complete the program while working full-time and the support — and high expectations — of the faculty made it a great learning experience."

—Michael Vinarcik '04
Master of Product Development
Director, Digital Architecture and Requirements Engineering
Engineering Innovation Factory at SAIC
 

Application Assistance

Apply Online. First time users need to create an account.
Create a log-in ID and PIN.
Complete Graduate Application by choosing Certificate for Systems Engineering as your program of choice.
You will be contacted by your Admissions Counselor to confirm receipt and will be asked to confirm your intention of Systems Engineering course work.
Send official transcripts for all course work completed after high school. Transcripts marked "Issued to student" will not be accepted.
Copy of current resume.

Send Documents to:
Systems Engineering Program Office – E270
University of Detroit Mercy
4001 West McNichols Road
Detroit, Michigan 48221