College of Engineering & Science
Electrical & Computer Engineering
Electrical Engineering and Computer Engineering
Are you curious about how the use of electricity and computers to solve complex problems, innovate new solutions and improve the lives of people around the world? Detroit Mercy's Electrical and Computer Engineering programs provide you with the academic skills, practical, hands-on experience and Jesuit and Mercy values that are fundamental to your career in electrical and computer engineering. With a degree in electrical and computer engineering, you will design power systems or automotive controls, develop medical testing equipment, work on the space shuttle, design communication satellites or develop new and faster computer technologies.
Electrical Engineering is the study and application of electricity, electronics and electromagnetism. Electrical engineers design everything from complex power systems to detailed electronic circuits, and includes robotics and mechatronic systems.
Computer engineering combines several types of electrical engineering and computer science to develop computer hardware and software.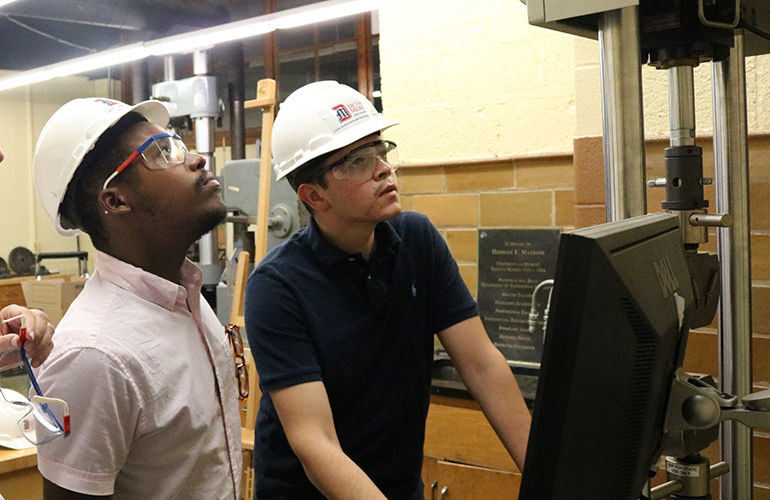 With a degree from Detroit Mercy, you are set up for a career in
Aerospace Engineering
Electrical and Electronic Engineering
Robotic and Mechatronic Engineering
Autonomous Systems Engineer
All classes are taught by professors who are industry experts
The small class sizes and close-knit relationships you'll develop with professors means personalized attention from leaders in the electrical and computer engineering fields. Best of all, professors are dedicated to your learning and teach every single class and lab. And you'll have plenty of one-on-one time with them during office hour meetings.
Spiral Curriculum gives you a learning advantage
You'll get a leg up on key program elements thanks to our "spiral curriculum," which presents concepts repeatedly, but with deepening layers of complexity or in different applications. By structuring learning this way, professors can introduce concepts traditionally considered advanced much earlier in the education process. The result? A more complete, in-depth study of concepts presented in an innovative way designed to cement your learning.
In your very first semester, you'll participate in hands-on projects that integrate theory and application—which culminate in your senior year with the senior capstone design sequence. This sequence gives you an opportunity to learn first-hand about project planning, FEMA analysis and teamwork.
Nearly all of our graduates find employment or are enrolled in graduate school within six months of graduation.Hands-on early means a job later.
Exceptional student outcomes lead to successful careers
Electrical and computer engineering graduates have earned acceptance into graduate programs at Duke, Stanford, Carnegie Mellon and Northwestern among many other highly ranked Universities.
Alums have gone on to successful careers at Raytheon, Boeing, Lockeed Martin, Apple, Nvidia, Ford, GM Toyota, DENSO, Fiat-Chrysler, General Dynamics, Tardec and more.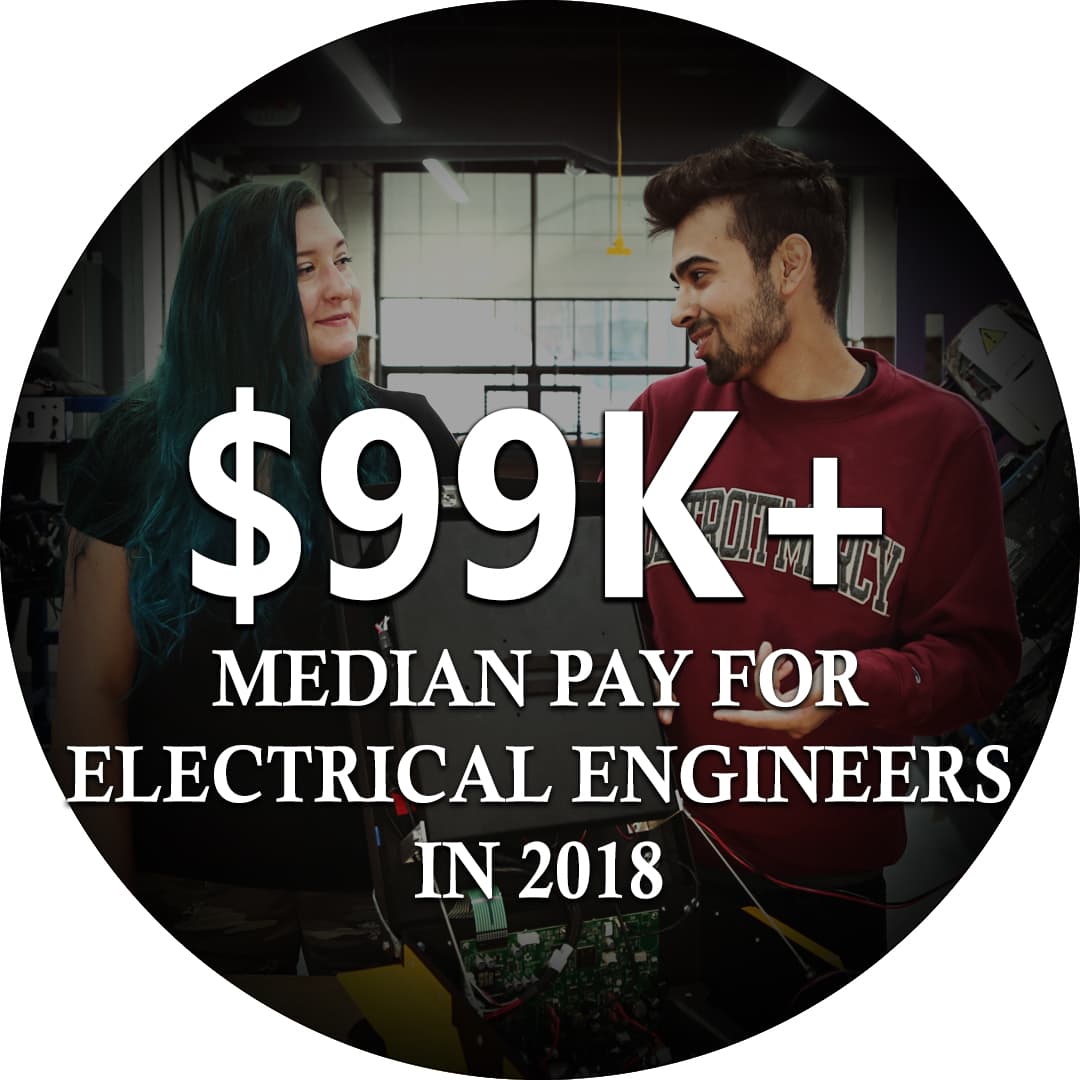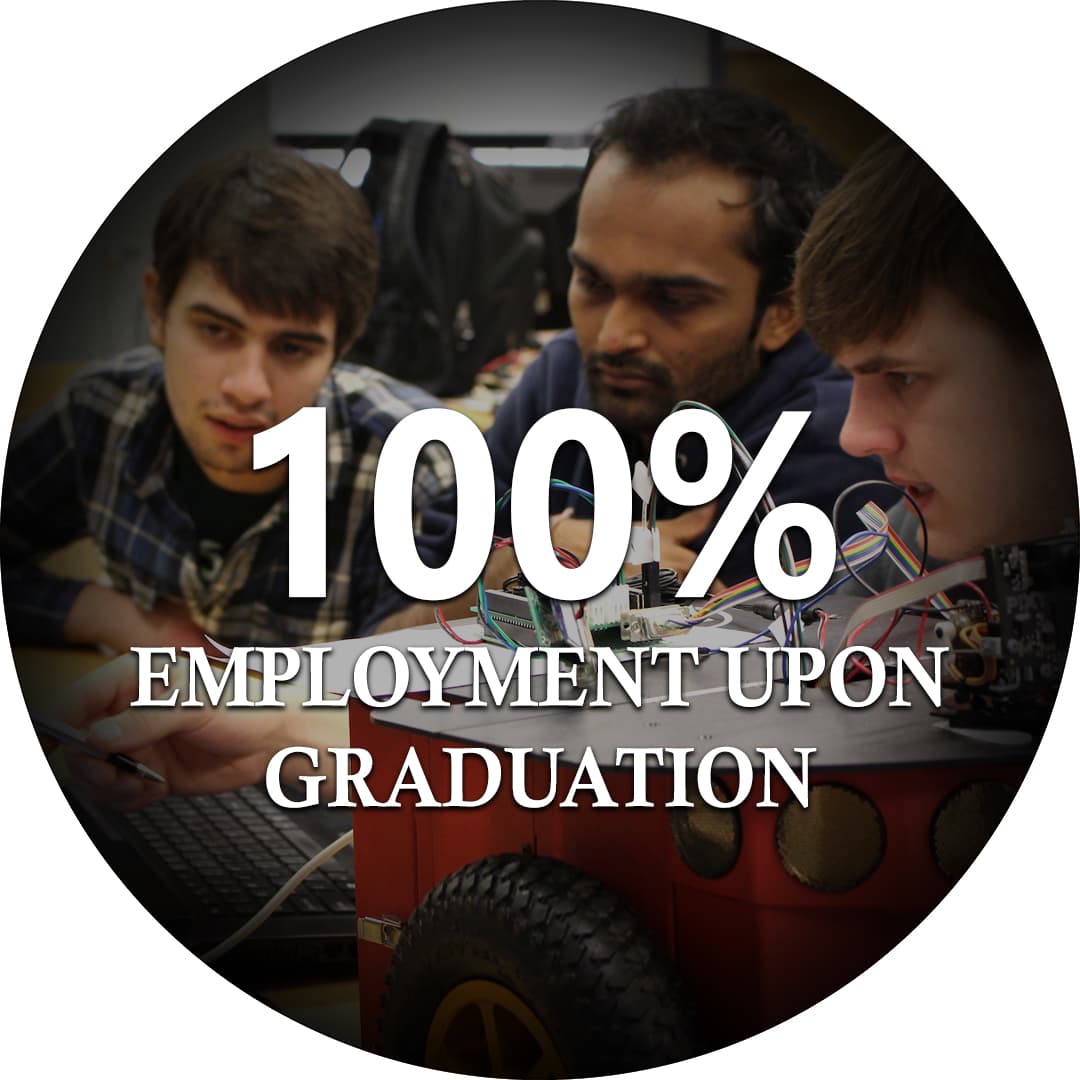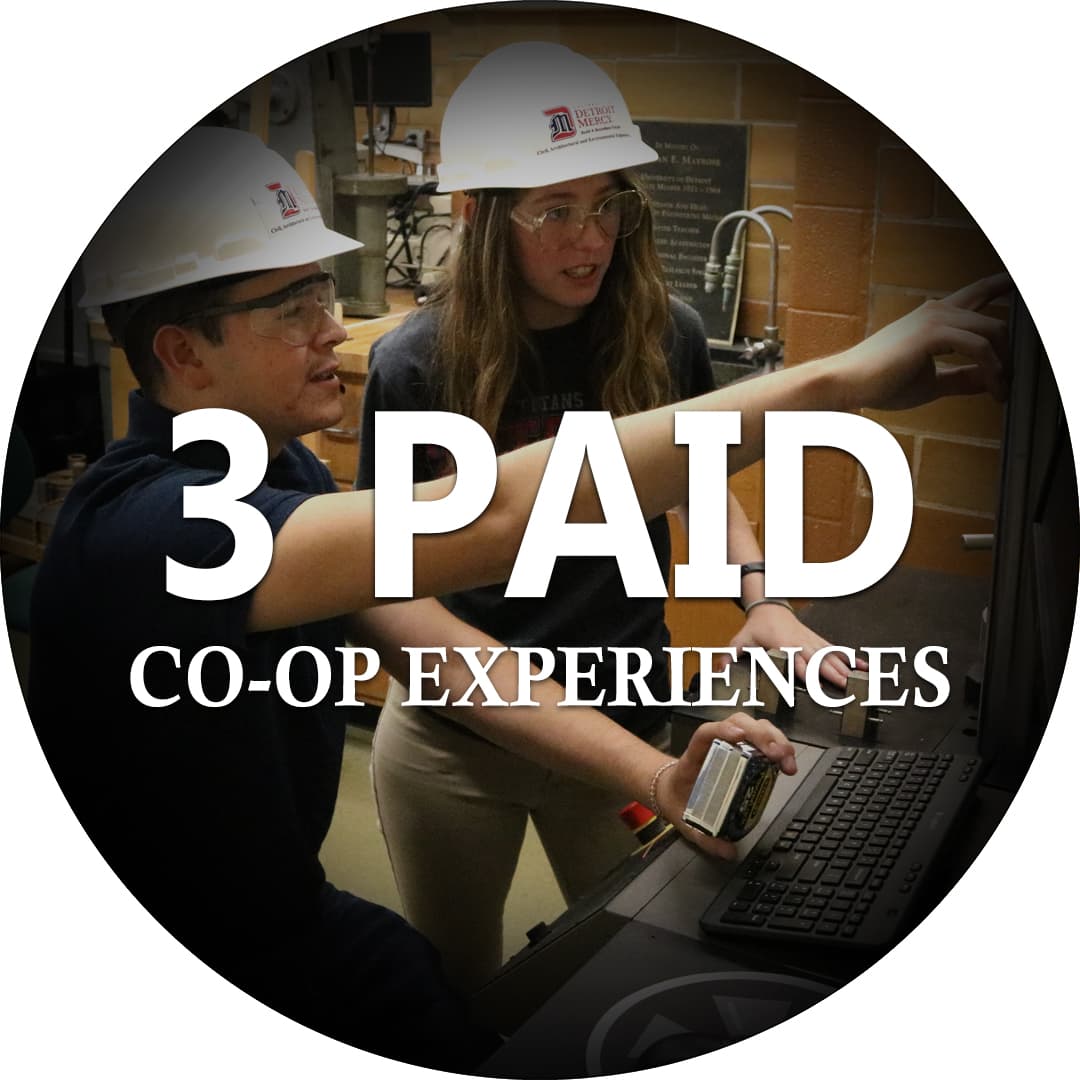 Real industry experience
You'll receive more than a year of paid industry experience due to the required three semesters of co-op. 
Your on-campus opportunities are plentiful, too. Meet friends with similar interests as a member of the Institution of Electronics and Electrical Engineers (IEEE), the largest student organization in the world. The department hosts multiple clubs that support off-class interdisciplinary projects and supports collaboration with other disciplines such as mechanical engineering, biology, architecture or civil engineering.
Great Values
Our Jesuit and Mercy religious sponsors are known for providing students a great, well-rounded education with an emphasis on leadership and service. At Detroit Mercy, we don't just teach engineering; we create community leaders. As a student, you'll learn the fundamentals of the field, but also something more: The opportunity and know-how to affect change in the world around you.
We are proud to call Detroit home.
Did you know that metropolitan Detroit is home to a full three percent of the nation's engineering and architecture jobs? That's the most in the Midwest and the second most in the country — think of the opportunities that offers when it comes to co-op placements and careers.
 

Undergraduate Programs

Bachelor of Electrical Engineering Degree (BEE)

This program allows students to specialize in one of two options:

Electronics, Control and Communication Systems

Use state-of-art Electronic Design Automation (EAD) tools for analysis and design. This option is recommended for the student who wants a broad exposure to the sub-disciplines within Electrical Engineering.

Computer Engineering

Computer Engineering is a concentration within the electrical engineering program.  The degree is a Bachelors of Electrical Engineering (EE), but the courses are arranged and selected to produce a specialization consistent with the EE sub-field "computer engineering." This option integrates a design-oriented philosophy, allowing you not only to grasp the theoretical concepts, but also apply them. The "tools and toys" in electrical and computer engineering continually change, but with a sound background in the underlying theoretical concepts, our students are well prepared to adapt to new technologies.

Five-Year Bachelor of Electrical Engineering to Master of Electrical and Computer Engineering (BEE to MECE)

Students who are completing their bachelor's degree at Detroit Mercy may apply for the five-year bachelor/master's program in their senior year, if they have a GPA of at least 3.25, are in good standing at Detroit Mercy, and are within two to three terms of graduating. If accepted into the five-year bachelor/master's program, students may receive up to six transfer credits to their master's program from appropriate courses in their bachelor's program.

Robotics and Mechatronic Systems Engineering with a Concentration in Electrical Engineering

Robotics and Mechatronic Systems Engineering with a Concentration in Electrical Engineering is an undergraduate degree program focused on the fundamentals to design "intelligent" systems requiring sensing, actuation and computation to achieve product quality and performance. 

Learn more: Robotics and Mechatronic Systems Engineering with a Concentration in Electrical Engineering

 

Accreditation

The Bachelor of Electrical Engineering degree program is accredited by the Engineering Accreditation Commission of ABET, http://www.abet.org.