Prepare for a transformative career
Earning your Electrical Engineering degree from Detroit Mercy will prepare you for a number of cutting-edge career paths, including:
Aerospace Engineering

Electrical and Electronic Engineering
Robotic and Mechatronic Engineering
Autonomous Systems Engineer
Software Developers, Applications and Systems Software
Postsecondary Teachers
Computer Programmers
Computer and Information Systems Managers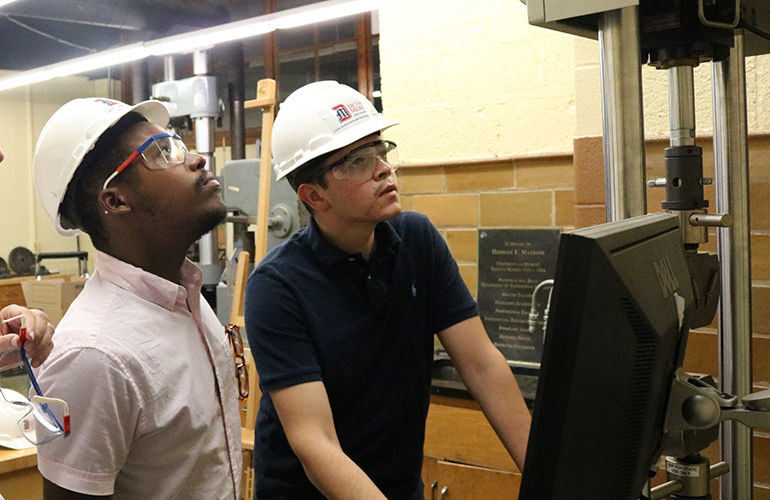 $101,780
median pay for electrical engineers in 2021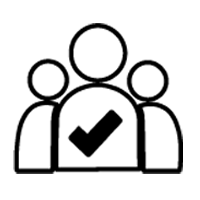 100%
100% employment at graduation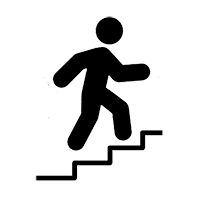 3 PAID
CO-OPS
Earn up to $43,000 in co-op earnings during your studies
Find your degree
 

Undergraduate Programs

Bachelor of Electrical Engineering Degree (BEE)

This program allows students to specialize in one of two options:

Electronics, Control and Communication Systems

Use state-of-art Electronic Design Automation (EAD) tools for analysis and design. This option is recommended for the student who wants a broad exposure to the sub-disciplines within Electrical Engineering.

Computer Engineering

Computer Engineering is a concentration within the electrical engineering program. The degree is a Bachelor's of Electrical Engineering (EE), but the courses are arranged and selected to produce a specialization consistent with the EE subfield "computer engineering." This option integrates a design-oriented philosophy, allowing you not only to grasp the theoretical concepts, but also apply them. The "tools and toys" in electrical and computer engineering continually change, but with a sound background in the underlying theoretical concepts, our students are well prepared to adapt to new technologies.

Five-Year Bachelor of Electrical Engineering to Master of Electrical and Computer Engineering (BEE to MECE)

Students who are completing their bachelor's degree at Detroit Mercy may apply for the five-year bachelor/master's program in their senior year, if they have a GPA of at least 3.25, are in good standing at Detroit Mercy and are within two to three terms of graduating. If accepted into the five-year bachelor/master's program, students may receive up to six transfer credits to their master's program from appropriate courses in their bachelor's program.

Robotics and Mechatronic Systems Engineering with a Concentration in Electrical Engineering

Robotics and Mechatronic Systems Engineering with a Concentration in Electrical Engineering is an undergraduate degree program focused on the fundamentals to design "intelligent" systems requiring sensing, actuation and computation to achieve product quality and performance. 

Learn more: Robotics and Mechatronic Systems Engineering with a Concentration in Electrical Engineering

 

Graduate Programs

Master of Electrical & Computer Engineering (MECE)

The MECE graduate degree allows for specializations in one of three areas:

Signal and Systems
Robotics and Mechatronic Systems
Computer Engineering

And is available with a thesis or non-thesis option.

Master of Software Engineering (MSSE)

The program focuses on team-based projects and practical lab assignments, and disseminates the knowledge needed to allow students to efficiently define, plan, develop and implement high quality, reliable and secure software systems under realistic constraints

Doctor of Philosophy (Ph.D.) with a major in Electrical & Computer Engineering

The Doctor of Philosophy degree with a major in Electrical & Computer Engineering requires students to complete the doctoral core courses, the core courses for one concentration, as well as credit hours in a related discipline and additional credit hours of dissertation. The Doctoral program is divided into three parts:

Graduate Teaching Assistantships: Multiple fully-funded graduate teaching assistantships for Doctoral studies are available in the Department of Electrical and Computer Engineering

 

Masters (MECE) Degree Specializations

The graduate degrees offer specialization in three areas:

Computer Engineering Specialization

The Computer Engineering specialization focuses on the design and development of embedded computer/control and wireless smart sensor systems. This focus uniquely addresses the needs of the bioelectric, wireless communications, multimedia, aerospace and automotive communities. Our program seeks to provide students with the ability to design real-time distributed microcontroller-based systems. Career opportunities in this area are excellent. See Coursework.

Robotics and Mechatronics Specialization

Robotics, the combination of sensing, computation and actuation in the real world, is experiencing rapid growth. This growth is driven by the decreased cost and increased availability of advanced sensors, high-performance computing devices and actuators, and by national needs for self-driving vehicles, defense and security, elder care, automation of household tasks, customized manufacturing, and interactive entertainment. The robotics specialization at Detroit Mercy is structured to integrate three elements of robotics: computation, sensing and action. These three elements thus define the courses and projects as students explore perception, cognition, control and dynamics as well as experiential areas related to environment interaction such as learning, power systems and mechatronics (embedded systems, sensors and actuators).

Mechatronics Engineering is a modern discipline that transcends the boundaries between embedded systems, electronics, controls, sensors and actuator design. Our faculty, in cooperation with the Mechanical Engineering department, has designed an innovative world-class Robotics and Mechatronics Systems program that offers a balance of electrical, computer, software, and mechanical engineering content with a focus on embedded systems design and computational intelligence. Career opportunities can be found in the aerospace, biomedical and automotive fields among many others.

Signals and Systems Specialization

The signals and systems specialization provides a background in digital signal processing, computer vision, and control systems. The advent of high-speed specialized digital signal processors, highly parallel graphical processing units (GPUs) and FPGA/ASIC integrated circuits has spurred rapid development in this area (machine and deep learning, cellular phones, software radios, CD and DVD players, and HDTV systems). The subsequent demand for specialists in this field has created excellent career opportunities. Students completing this program will have both the theoretical background and practical experience to design and develop quality products in this market.
All classes are taught by professors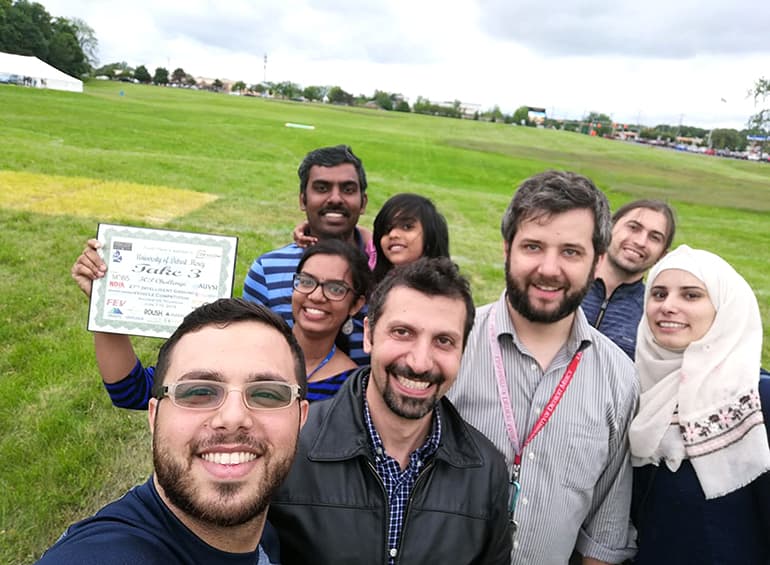 Our small class sizes and close-knit relationships you'll develop with professors means personalized attention from leaders in the electrical and computer engineering fields.
Best of all, our faculty are dedicated to your learning and teach every single class and lab. You'll have plenty of one-on-one time with them during office hour meetings.
Ask to speak to a professor when you tour campus.
The five-year Engineering master's program is what attracted me to Detroit Mercy. The professors are very welcoming and they really care for me as an individual and how well I do. The professors are an email or a knock on a door away for assistance whenever the need arises.
— Anna Rose Periyappurathu '18
Hands-on, real-world projects
In your very first semester, you'll participate in hands-on projects that integrate theory and application—which culminate in your senior year with the senior capstone design sequence. This sequence gives you an opportunity to learn first-hand about project planning, FEMA analysis and teamwork.
By developing products for clients from their freshman to senior year, our Engineering students are prepared for careers in innovative fields. Some of these projects include:
Quadcopters design and construction
Robot system design—autonomous cars, mobile off-road robots and others
Machine learning-based driver assistance
Computer vision for automatic lane-keeping and cruise control
Career-ready graduates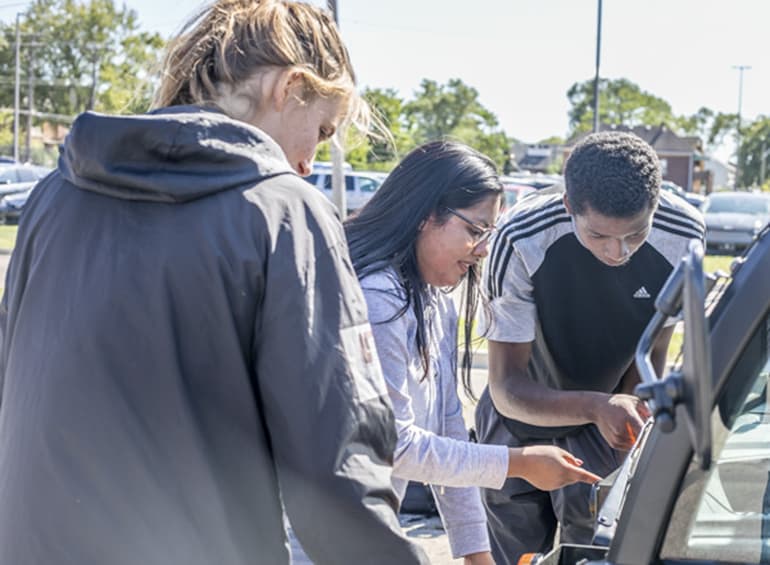 Nearly all of our graduates find employment or are enrolled in graduate school within six months of graduation. Early hands-on experiences during the program means that you'll land a great career right after graduation.
Alumni have gone on to successful careers at Raytheon, Boeing, Lockheed-Martin, Apple, Nvidia, Ford, General Motors, Toyota, DENSO, Fiat-Chrysler, General Dynamics, Tardec and more.
Or Consider Grad School
You might consider a Master of Electrical and Computer Engineering or Ph.D. from Detroit Mercy.
Professional paid co-op = real industry experience
You'll receive more than a year of paid industry experience thanks to three required semesters of co-op experience.
On-campus experiences
Your on-campus opportunities are plentiful, too. Meet friends with similar interests as a member of the Institution of Electronics and Electrical Engineers (IEEE), the largest student organization in the world. The department hosts multiple clubs that support off-class interdisciplinary projects and supports collaboration with other disciplines such as mechanical engineering, biology, architecture or civil engineering.
Proud to call Detroit home
Did you know that metropolitan Detroit is home to 3% of the nation's engineering and architecture jobs? That's the most in the Midwest and the second most in the country — think of the opportunities Detroit offers when it comes to co-op placements and careers.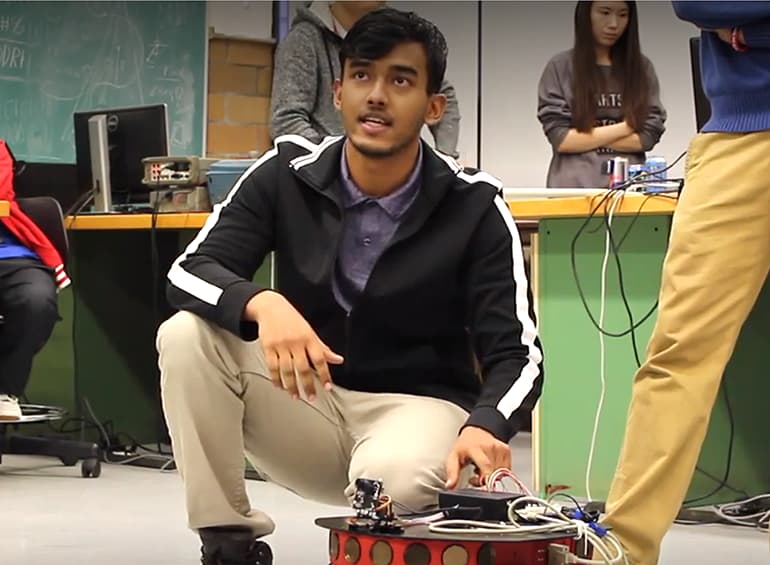 The co-op program gave me the opportunity to try one thing, found out that it's not exactly what I want and then try something else where it completely opened up new opportunities for me.
— Laurel VandePutte '07
A higher purpose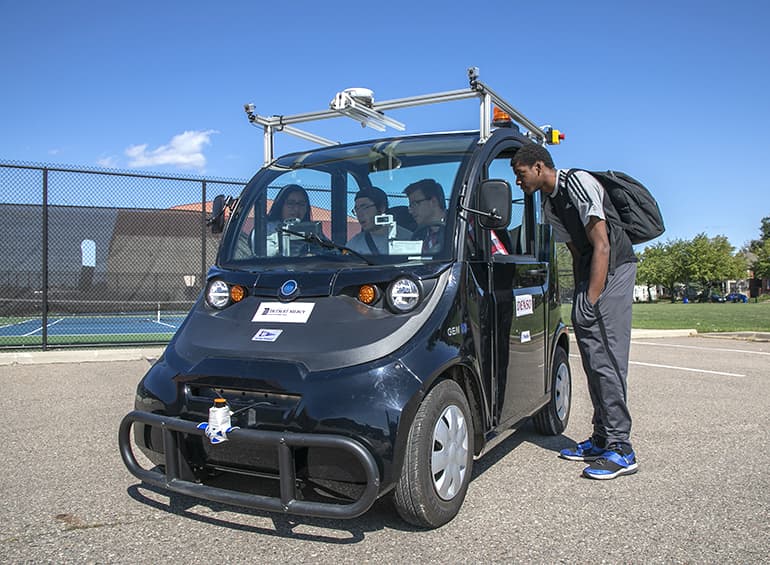 Our Jesuit and Mercy sponsors and traditions are known for providing students an exceptional, well-rounded education with an emphasis on leadership and service.
At Detroit Mercy, we don't just teach engineering; we create community leaders who can apply what they learn to issues of conscience. As a student, you'll learn the fundamentals of the field and be able to offer more: the know-how to affect change in the world around you.
Spiral Curriculum = a learning advantage
You'll get a leg up on key program elements thanks to our "spiral curriculum," which presents concepts repeatedly, but with deepening layers of complexity or in different applications. By structuring learning this way, professors can introduce concepts traditionally considered advanced much earlier in the education process.
The result? A more complete, in-depth study of concepts presented in an innovative way designed to cement your learning.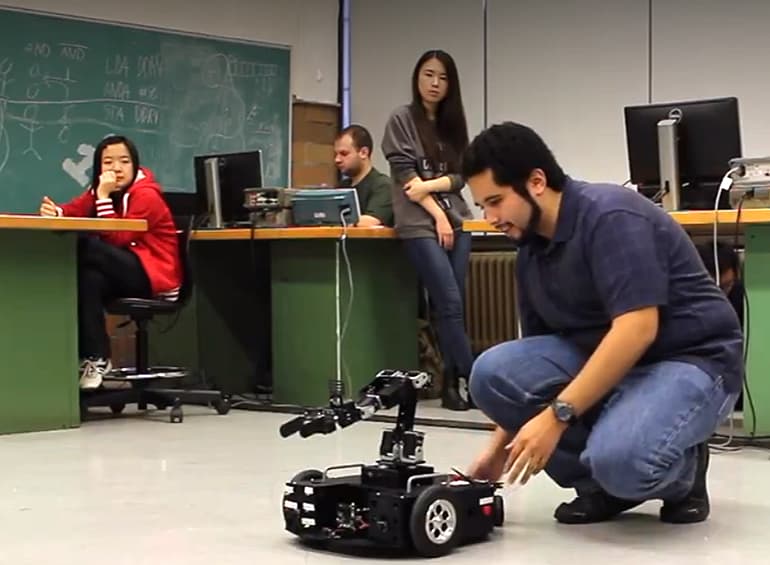 Accreditation

The Bachelor of Electrical Engineering degree program is accredited by the Engineering Accreditation Commission of ABET, http://www.abet.org.