Your success isn't just about where you go to college; it's about the entire educational experience.
University of Detroit Mercy is proud to be part of ReBUILDetroit, the first program of its kind, which offers intensive training for students interested in pursuing academic, research or industry careers in biomedical, behavioral, clinical or social sciences. From your freshman year on, ReBUILDetroit Scholars experience the excitement of scientific discovery through direct participation in research while preparing for graduate school onto career paths in exciting and in-demand biomedical disciplines.
Program benefits include:
Paid, faculty-mentored research (for duration of grant funding)
Extensive mentoring in and outside the classroom
Programming that will prepare you for graduate school
Networking opportunities with academic and industry leaders
Eligibility Requirements
Incoming freshmen or transfer student
Major in

an approved BUILD major which includes biology, chemistry, biochemistry, engineering with biomedical concentration and psychology

High school or college GPA of at least 3.0
U.S. citizen or permanent residence
Strong desire to pursue graduate-level studies, especially at the doctoral level
Strong desire to learn about conducting formal research and engaging in real-world projects
Participate in the Summer Enrichment Program
Be selected through a competitive review process
Application Requirements
Priority consideration given to those who apply for admission early
Once accepted for admission to the University, candidates will be notified of the selection process including an additional essay and on-campus interview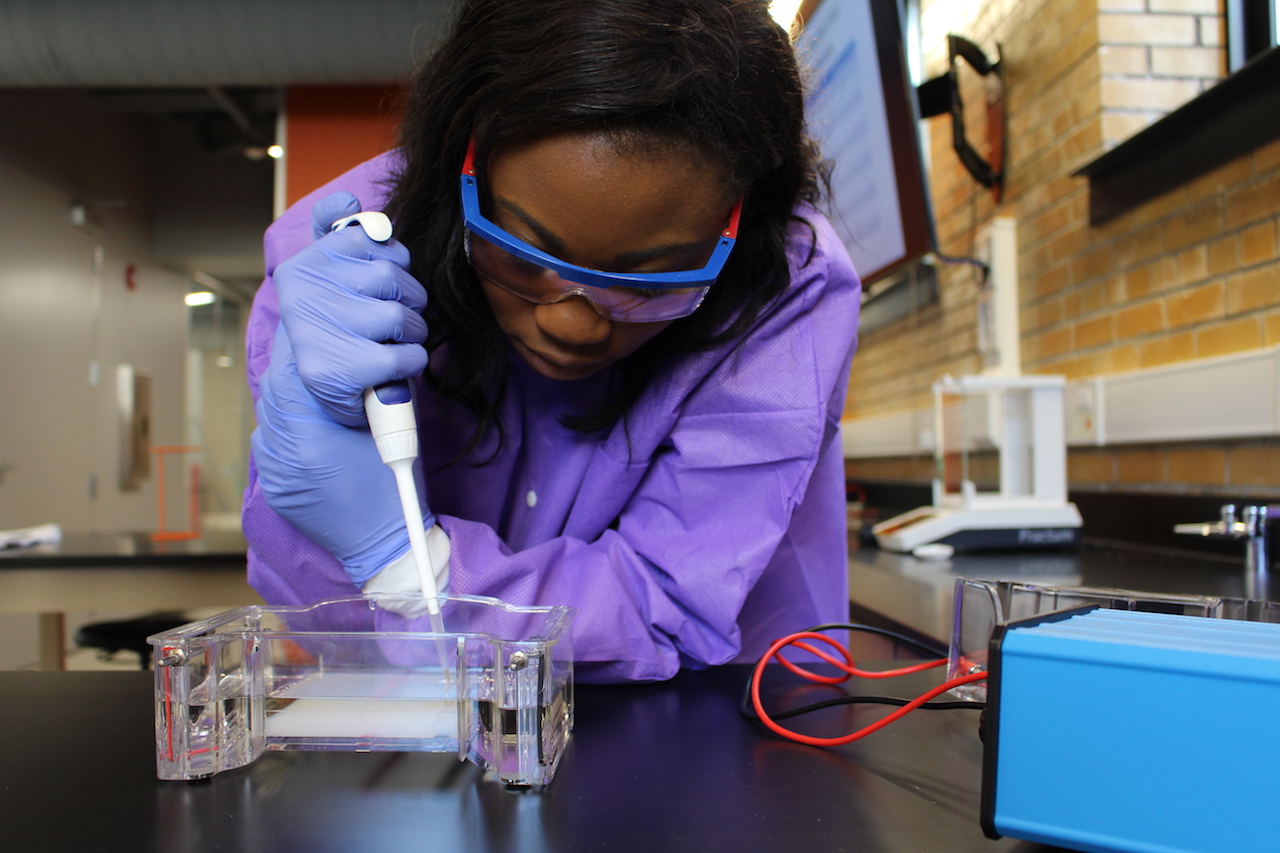 Mentoring
Mentoring plays a significant role in ReBUILDetroit, giving participants a built-in support network. Faculty mentoring cultivates ReBUILDetroit Scholars' academic interests, networks and career development, while peer mentoring provides social/emotional support for transitioning to university. Progress toward graduation is tracked through proactive academic advising and career coaching tracks, research and graduate work.
To best meet the needs of ReBUILDetroit Scholars, the ReBUILDetroit consortium shares, designs and improves evidence-based practices that foster student engagement and maximize student success.
Academic programming
For potential ReBUILDetroit Scholars, the program begins the summer before university begins, and continues throughout their undergraduate careers. The program's focus on research methodology and practice readies students for the challenges of graduate school.
Summer 1 (pre-university): Summer Enrichment ReBUILDetroit Scholars Program.
Year 1: Research methodology courses with authentic laboratory research experiences.
Summer 2: Intensive, funded, faculty-mentored laboratory research.
Year 2 through graduation: Funded research (continued); learning communities; publishing, presenting and professional development.
Summer Enrichment Program at Detroit Mercy
Students who meet the requirements of the ReBUILDetroit Program will be invited to participate in the Summer ReBUILDetroit Scholars Program, a multi-week day program at Detroit Mercy's McNichols Campus.
For more information or to apply to Detroit Mercy's ReBUILDetroit Program, contact the Office of Admissions at 800-635-5020 or email admissions@udmercy.edu.
About the consortium
ReBUILDetroit is a partnership among University of Detroit Mercy and Wayne State University, supported by a $21.2 million grant from the National Institutes of Health. The consortium is committed to encouraging more undergraduate students from underrepresented or economically disadvantaged backgrounds to pursue careers in biomedical research.
To learn more about the consortium, visit