Engineering & Science Research Symposium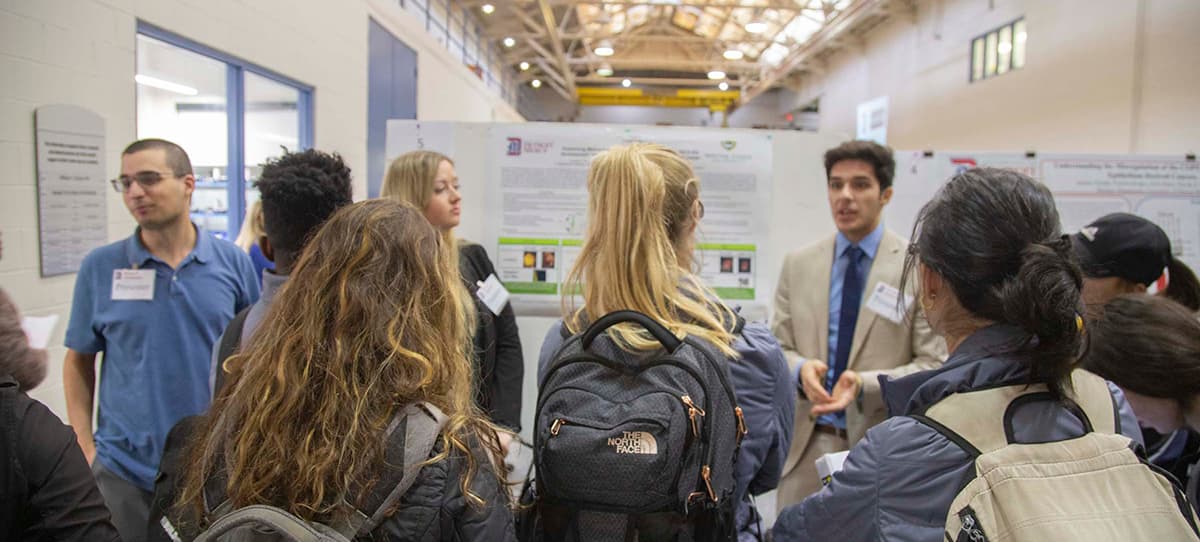 Detroit Mercy's College of Engineering & Science hosts an annual symposium to highlight the research and projects by undergraduate and graduate students.
Each year, the College invites high school students and alumni to experience the academic research achievements of our students. 
The 2023 Engineering and Science Undergraduate and Graduate Research Symposium will be held Friday, Oct. 27, in the University Ballroom 9:30 a.m.-1 p.m. 
At this event, we will have high school students and alumni visiting as we present our research, hold demonstrations, and enjoy lunch together. Student participants will present their research via printed poster at the venue location. 
Prizes will be awarded to students for research excellence in both Engineering and Science categories, as well as a participant-voted People's Choice award. 
Why do we hold this event?
Celebrate all the cool research projects we're doing
Motivate others to get involved
Inspire high school students to choose STEM careers
Join us and judge for yourself!
 

2023 Research Winners, Abstracts and Pictures

Awards

Freshman Biology Science Award 

1. HOW DO DISEASES AFFECT THE STOMATAL DENSITY AND WATER STRESS OF GRAPE LEAVES IN URBAN GARDENS OF DETROIT, MI 
Abdulqader Naser, Deaira Chaney, Lia White, Channoh Yun, Anna-Simone Mousaad, and Zahara Kanji
Research Advisor: Maris Polanco

Engineering Excellence Award  

1. FREE-CONVECTION ELECTRONICS COOLING: EXPERIMENTAL COMPARISON OF COPPER-AND ALUMINUM-FOAM HEAT SINKS

Hannah Klatzke

Research Advisor: Nihad Dukhan

2. OCCUPANCY PREDICTION: A COMPARATIVE STUDY OF STATIC AND MOTIF TIME SERIES FEATURES USING WIFI SYSLOG DATA

Bassam Abdelghani, Ahlam Al Mohammad, and Jamal Dari

Research Advisors: Mina Maleki and Shadi Banitaan

3. ENHANCING THE UNIVERSITY OF DETROIT MERCY FACULTY REIMBURSEMENT MANAGEMENT SYSTEM

Eyiara Oladipo, Andre Price, Ethan Scheys, and Benyamain Yacoob

Research Advisor: Mina Maleki

 

Scientific Excellence Award 

1. QUANTITATION OF ATRAZINE AND ITS METABOLITES FOR TOXICOLOGICAL STUDIES IN THE KEYSTONE SPECIES FAZONIUS VIRILIS
Dorian K. Goolsby, Reema N. Hamdan, Kenia L. Contreras, Andrew A. Bosah, Christina M. Rabban1, Mariana Muskovac, and Caela P. Fedraw
Research Advisors: Rachelle Belanger and Kendra Evans
2. ALEXITHYMIA MODERATES THE RELATIONSHIP BETWEEN MEMORY FOR EMOTION AND COMPANIONSHIP
Rebecca De La Garza, Darius Vann, Robiann Broomfiled, Gavin Sanders, and Robin Hanks
Research Advisor: Lisa Rapport
3. EXAMINATION OF A CONTEMPORARY COUNTERFEIT BRASHER DOUBLOON
Keara Moroz, Andrew Ivanciu, Phebi Le, and Lester Rosik
Research Advisor: Mark Benvenuto

People's Choice Award

1. THE APPLICATION AND HISTORY OF GOOSYPOL

Mia Cassar

Research Advisors: Mara Livezey and Prasad Venugopal

 

2022 Research Winners, Abstracts and Pictures

Awards

Engineering Quality Award

Authors: Lauren Ross,Nichole Kutchey,Nassif Rayess,  and Megan Conrad
Title: #1. DESIGN OF A CUSTOM FORCE FIXTURE TO FIT MINIATURE LOAD CELLS FOR INDIVIDUAL FINGER FORCE MEASUREMENT.
Authors: Karthika Balan,Michael Santora, and Victor Carmona
Title: #14. MULTISPECTRAL IMAGE CLASSIFICATION WITH COMPUTATIONAL INTELLIGENCE TECHNIQUES USING UAV MULTISPECTRAL DATA FOR ECOLOGY AND SUSTAINABILITY APPLICATIONS
Authors: Bassam Abdelghani, Sophia Fadal, Shadi Bedoor, and Shadi Banitaan
Title: #11. PREDICTION OF HEART ATTACKS USING DATA MINING TECHNIQUES.

Scientific Quality Award

 Authors:  Jade Siebert,Luming Zheng, Miao Qian, Mingzhan Wu, Jade Sibert, and Genyue Fu
Title:  74.  Observing Positive Interracial Contact Reduces Young Children's Implicit Racial Bias


  Authors:  Fadi Koria, Haya El Dana, Joseph Ferracciolo, Laura Young, and Eric S. Krukonis
Title:  40.  ASSESSING THE PHYSICAL INTERACTION(S) BETWEEN VEILLONELLA PARVULA AND STREPTOCOCCUS


 Authors:  Mohammed Ahmed, Samantha Mena, Arif Hussain, Jungwhan Park, Antonela Shyti, JiEun Park, Woohyun Jeong, Maria A. Gerges, and Katherine C. Lanigan
Title:  23.  DETECTION OF PHOTO-INDUCED OXIDATION OF METAL-EDTA COMPLEXES ADSORBED TO TITANIUM DIOXIDE NANOPARTICLES USING UV/VIS SPECTROPHOTOMETRY AND ATR-FTIR SPECTROSCOPY

People's Choice Award

Authors:  Mariana D. Muskovac, Diana H. Chammout, Miranda M. Meyou, Hussien B. Hazime, Sarah Awali, Kenia L. Contreras, Dorian K. Goolsby, Reema N. Hamdan, Christina M. Rabban, Kendra R. Evans, and Rachelle M. Belanger


Title: #29: A MORPHOLOGICAL AND BIOCHEMICAL ANALYSIS OF CRAYFISH HEMOLYMPH AND HEPATOPANCREAS POST-ATRAZINE EXPOSURE