Enabling Technologies: Faces on Design
For those looking for extensive opportunities, University of Detroit Mercy provides some of the best. 
The multidisciplinary patient-centered program coined Faces on Design is a joint-effort program that pairs seniors from the College of Engineering & Science and higher-level Nursing students from the College of Health Professions & McAuley School of Nursing to improve lives by designing a one-of-a-kind assistive device to combat the lack of solutions within the disabled community. 
The collaboration allows Engineering students to develop innovations from start to finish and be able to relay that to the Nursing students who use their expertise to assist in the health aspect of the design.
The two-semester course first focuses on meeting with the client, understanding their daily living rituals then collaborating with the client and each other in identifying an obstacle the team of students could help the client overcome. 
The second half of the course involves implementing the team design with a prototype, putting it to the test, and modifying it to fit the client's specific needs. 
Each year, the multidisciplinary class closes with an almost celebratory design presentation event at the end of the Winter Semester. 
"This becomes more than a project. The students work with a client and assess their needs. By the end of the semester, students don't see this as a project but providing a quality product for a person in need which will enhance their mobility. This is just one example of the entrepreneurial mindset embedded in our teaching, it is aimed at making a difference in the workplace and in society."
—Darrell Kleinke, professor of Mechanical Engineering
Previous project examples that have changed lives for the better
Wheelchair Lift
A team of students in the Mechanical Engineering Senior Design class, in collaboration with Detroit Mercy Nursing students—designed, developed and produced a wheelchair lift device for their client, Pam Williams.
Williams, who has lupus and scleroderma, is mobile with the help of her wheelchair, but it was difficult for her to take her wheelchair anywhere. The goal of the device was to automatically lift a wheelchair into the trunk of a sedan without sliding too far into the trunk or damaging the exterior of the car
Williams is thrilled with the final product. "This is fantastic," she said with a big smile. "Now [Gage] is an engineer and is creating something that can help me."
The entrepreneurial program is supported by principles from the Kern Entrepreneurial Engineering Network (KEEN). KEEN is a collaboration focused on elevating engineering education by incorporating core principles of entrepreneurial engineering.
The other members of the student team include Evan Gage, Martha Dunbar, Elliott Fernandes, Anthony Li and Daniel Modes.
Wheelchair Accessible Crib
Modifications to a Jenny-Lind style crib made it accessible to a caregiver using a wheelchair.
The project was carefully designed and built by a team of Detroit Mercy Engineering students and faculty. Care was taken to preserve the original geometry of the bed / rail system and to review the final product and instruct the users in proper use. A liability release waiver was signed by the recipient.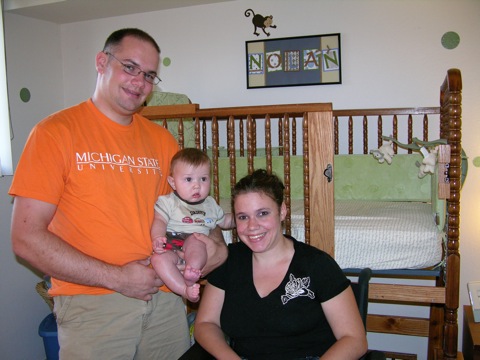 Family using wheelchair accessible crib designed by students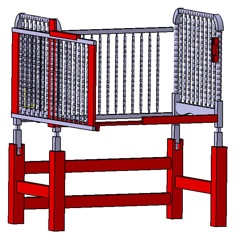 (top left) Crib slides to half open; (top right) Crib swings from half to full open;
Device to help someone who is semi-quadriplegic build upper body strength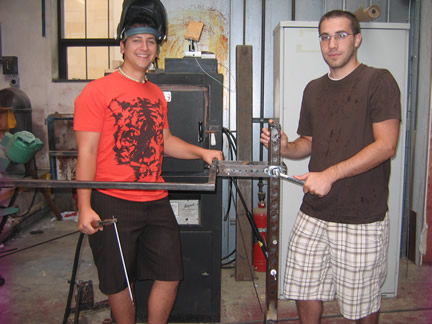 This team designed and built a device for an individual who is semi-quadriplegic. The client has no lower body movement and uses a wheelchair. He has no movement in his fingers and his fingers are closed shut as in a fist. His request was for a device to help him build up upper body strength. The team designed a device so that the client can drive his wheelchair in position, lock down the wheels and perform his upper body exercises while sitting in the wheelchair. Exercise involves pressing down on two arms of the machine. This pressing motion is resisted by a pneumatic cylinder and the client would be working against the resistive force of the cylinder. The number, type and attachments of the cylinder can be altered to increase or decrease the resistance of the machine so that the client can adjust the load as needed.
Team BMP: Patrick Minjeur, Mark Fazi, Ben Wansten
Bionic Hand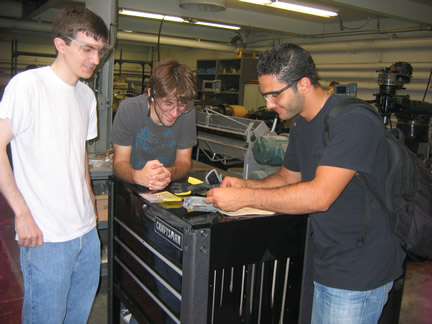 This group worked on a device for a client who has a paralyzed right arm. The client cannot use the right arm from wrist through to his fingers. In his job, he can use his left arm to perform tasks such as data entry and sorting etc., but needs to simultaneously hold onto paper, mail and other objects in his right hand. The device works as an attachment to a glove that can be worn by the client on his right arm. It features a pair of sheet metal jaws that work like a paperclip to hold onto any object that is placed between them, allowing the client  to hold things with his right hand while he is working with his left.
Team Bionic Solutions: Adam West, Ray Hannish, Matt Jones
Exercise equipment for client with multiple sclerosis
Team 1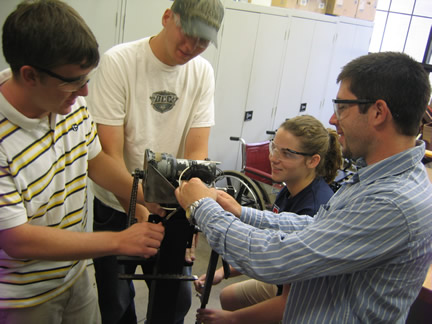 This team designed and built an exercise device for a client with multiple sclerosis. The client is wheelchair bound and must sit all day at work, leaving him sore at night. Physical therapy has helped but cannot be a permanent solution. The client needed a device that would allow him to replicate at home some of the helpful movements he does at physical therapy. The team designed and built a custom device that is flexible enough for the client to exercise his legs and hip joint as well as his arms and shoulder joints. Despite being built for a particular client, the device can be adjusted for individual needs. There is no such device in the market at the time of writing, and the team intended to file a provisional patent application for this device.
Team : Ray Gage, Katelyn McCutcheon, Jacob Bahrlaski, Andy Neidert
Team 2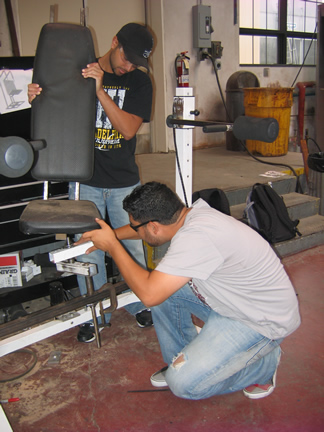 This team designed custom exercise equipment for a client who has multiple sclerosis. This client's exercise needs involved moving his hip about a vertical axis. The team designed and built a machine where the client can use two stationery support arms and exercise his hip while sitting in a chair which could be moved by a cam like device as well as do similar exercises while standing. The seat height is adjustable so the user can raise or lower his position as needed.
Team: Jason Hynous, Danny Garcia, Henry Akinnibosun, Ali Dirul-Islam