American Society of Civil Engineers

The student ASCE club (American Society of Civil Engineers) has done what seems like a magic trick. It mystifies the mind of people without a background in science how concrete can float.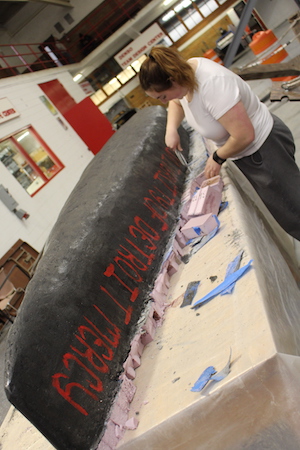 The principle of floating concrete is the same as why steel battleships float when steel should sink. It has buoyancy equaling the water displaced.
This means that a hollow object floats as long as the weight of the steel or concrete is less than all the water it would take to fill it.
Making a concrete canoe is such an exciting project that students throughout the University volunteer to help. They all enjoy being a civil engineer for a day without having to take the classes.
After the canoe is finished, the students take it for races against other schools in nearby states.
Our students win every time. (In the "Had the most fun" category.)
Club membership is free. In addition to CE's, ASCE is the national sponsoring organization for Architectural Engineers. We encourage even non-engineers to participate in our activities.
Follow up to date Canoe progress on Facebook.
Advisor: Dr. James Lynch