College of Engineering & Science
Brewing Chemistry celebrates milestone thanks to Detroit Mercy staffer
Share:
Detroit's science café, Brewing Chemistry, celebrated its 100th consecutive month of programming thanks in part to Chemistry & Biochemistry storeroom manager, Meghann Murray.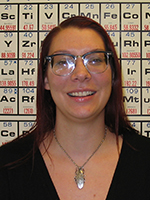 Murray began the science café in November 2008 with funding and support from the Detroit section of the American Chemical Society.
Brewing Chemistry provides a networking opportunity for students, faculty and professionals to discuss ideas and research that may lead to potential collaborations.
"I started this chemistry themed science café to encourage networking, discussion and sharing the love of the chemistry," said Murray.  "It has also been a great way to introduce chemistry to the general public. Hosting these informal lectures helps to explain how chemistry is truly a part of everything."
The name 'Brewing Chemistry' was selected because "chemistry is brewing all around us," said Murray.
In recognition of this milestone, Murray was recognized in the American Chemical Society trade magazine Chemical & Engineering News, March 6.
Congratulations on all the work you do Meghann for the College of Engineering & Science, Brewing Chemistry and pre-college summer camps.
View page 41 Chemical & Engineering News, March 6.
And we're off! 100 Brewing Chemistry cafes! A testament to @UDMces's Meghann Murray's hard work & dedication to #science! Thanks Meghann! pic.twitter.com/ypGPYTEfRW

— Detroit ACS (@DetroitACS) February 22, 2017
Share: