College of Engineering & Science
Professor appointed to national chemistry undergraduate education committee
Share: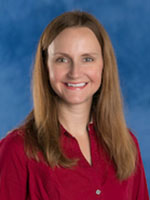 Kendra Evans, associate professor of chemistry and biochemistry, accepts appointment on the American Chemical Society (ACS) General Chemistry Examination Committee.
The Committee drafts the ACS general chemistry examination which is administered for students at the end of two terms of general chemistry.
Evans is excited to serve on this committee which impacts chemical education and assessment of student learning.
"I am thrilled to be able to serve my professional society, its members and chemistry students around the world with this opportunity," says Evans.  "I took the ACS exams in my undergraduate courses and have been administering them since 2010."
The exam, along with similar exams, is administered to students worldwide.  It assesses student learning, demonstrates the value of the curricula and provides experience with standardized examinations.
"Instructors can consider the results of the exams when modifying teaching strategies to improve student learning," says Evans.
Upon learning of Evan's appointment, Mark Benvenuto, chemistry and biochemistry chair, said, "This is a big deal, as it is a national committee.  It has only something like 20 members and develops the standardized general chemistry test used throughout the nation and indeed worldwide."
Chemistry and biochemistry faculty at Detroit Mercy are well-engaged with the American Chemical Society.
They contribute chairing symposia, attending committee meetings and leading undergraduate programming.
"The connections Detroit Mercy faculty have with ACS form a fabulous network of professionals that benefits students at Detroit Mercy," says Evans.
Congratulations Dr. Evans!
Share: