College of Engineering & Science
UDM Engineering programs are world-class says Fulbright Scholar
Share:
Fulbright Scholar and professor of mechanical engineering, Dr. Nihad Dukhan, believes the educational experience at UDM rivals world-class universities.
Dukhan's Fulbright Scholar grant was to do research and assess a new approach for enhancing teaching thermodynamics at Istanbul Technical University (ITU) in Turkey.
Dr. Nihad Dukhan
The prestigious ITU is consistently ranked in the top three universities of over 230 universities in Turkey.  
"It was a bit intimidating teaching among some of the best educators and scholars in Turkey," says Dukhan.  "The new teaching method to understand thermodynamics was successful."
"My teaching evaluations were higher than what was typically given to veteran professors," says Dukhan.  "This is especially impressive since I was teaching in English in a foreign environment."
Given Dukhan's experience, this speaks very highly of the education received at the University of Detroit Mercy.  "It is excellent and rivals other world-class institutions.  It is verified in a foreign environment," says Dukhan.
In terms of scientific research, Dukhan published nine journal articles, ten conference papers and supervised one Turkish doctoral student during his sabbatical and Fulbright leaves.  He continues his research collaboration on joint projects with scholars in Turkey.
Fulbright Scholars are funded by an appropriation from the U.S. Congress to the U.S. Department of State.  Scholars enjoy diplomatic benefits while in the foreign country.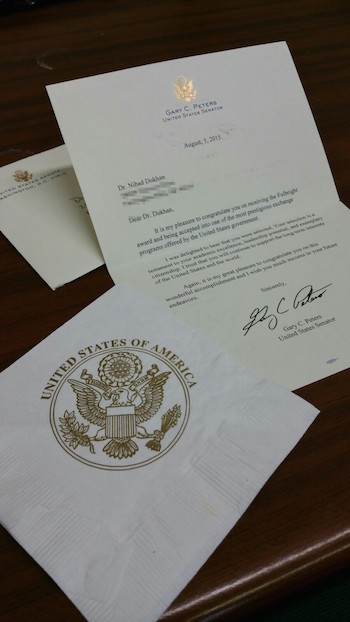 One of the diplomatic highlights of Dukhan's stay was a full State Department Thanksgiving dinner with Charles F. Hunter, U.S. Consulate General in Istanbul.  Upon his return to Detroit, Dukhan received a congratulatory letter from Senator Gary Peters.
For more information:
Share: